Ladies recreational football
Save this item
Women's veterans and recreational football is becoming more and more popular. It's all about fun, companionship and support with a little bit of football added in. There's no need to have played before – we have ladies that have joined in their 50s, with this being their first experience of the game. This is all about growing participation, improving fitness, offering women an alternative to fitness classes and providing an opportunity for women to continue to enjoy the game later in life away from competitive leagues.
Everyone who has joined us has seen huge increases to their wellbeing, both in terms of physical fitness and mental health. The sessions are all about personal improvement, taking small steps and feeling big differences. They are about building confidence, self-esteem and promoting social interaction and making sure we look out for each other.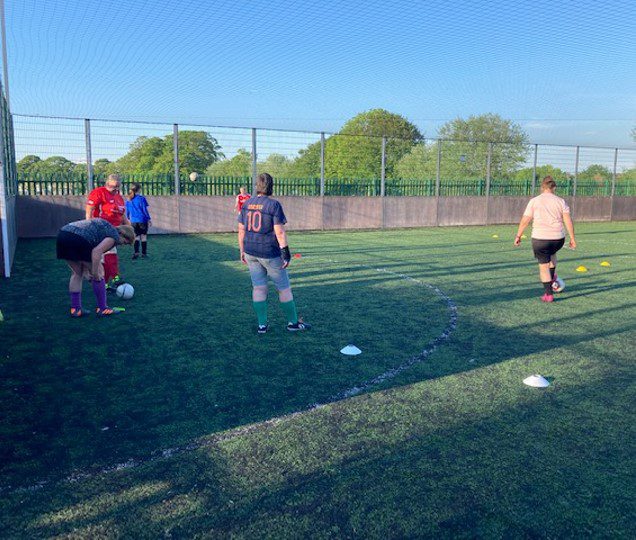 Bouncing back from the pandemic
We have been playing together in Thanet now for around three years and the pandemic hit us all hard. It's amazing the difference that having this one hour of activity together makes. Maintaining fitness in your 40s and 50s is challenging and each of us greatly felt the impact of being away from the game. I don't think we realised just how much we had missed the social element of the sessions as well, being able to come back together means so much to us all and with the weather improving each week we are looking forward to a whole summer of football with even the chance of a tournament or two.
Feel like giving it a try?
If you used to play but haven't for years because life, work, children and other responsibilities get in the way, or if you have never played but fancy getting a little fitter, out in the fresh air whilst making some great friends, then this could be the activity for you. The general age range starts from around 30 (this only applies in tournaments and not for training and participation), with no upper age limit.
To find a club or football session local to you, visit the Kent FA's Women and Girls Hub by clicking the button below.
Popular articles
Have you made a promise to yourself be more active? Lots of…
---
Have you made a promise to yourself be more active? Lots of…
---
Have you made a promise to yourself be more active? Lots of…
---
Everyday Active on social media
Related content