We've all been there. You make a plan to get more active, perhaps a new year's resolution. It goes well for a few days, perhaps even a few weeks but then you remember that you don't really enjoy physical activity, you start getting bored doing the same activities over and over again, and you start to slip back into your old ways. Let us help you beat the boredom and make a habit of moving more in your everyday life, with these five handy tips.
Mix it up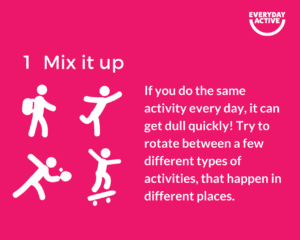 If you do the same activity every day, it can get dull quickly! Try to rotate between a few different types of activities, that happen in different places. Each activity will bring its own benefit to your health, as well as keeping things fresh and enjoyable.
Share the experience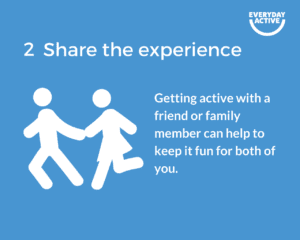 Getting active with a friend or family member can help keep it fun for both of you. Turning your activity into a social occasion gives you the chance to catch up as well as making some great memories with the ones you love. If you're both total beginners, it will make giving a new activity a try a lot more fun!
Turn it into a game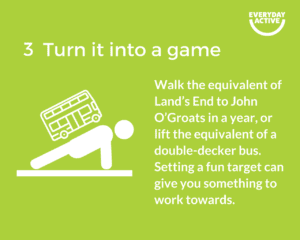 Walk the equivalent of Land's End to John O'Groats in a year, or lift the equivalent of a double-decker bus. Even just keeping count of how many repetitions of an exercise you can manage, and then trying to beat your score can help you set targets and see the progress you're making day-by-day.
Try something totally new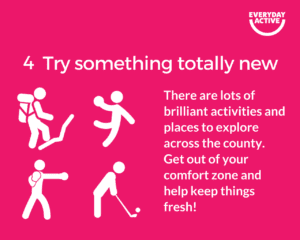 There are lots of brilliant activities and places to explore across the country. Get out of your comfort zone and help keep things fresh. Take a look at our activity finder to see opportunities for activities in your local area.
Do what you love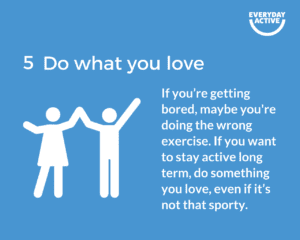 If you're getting bored, maybe you're doing the wrong activity. If you want to stay active long term, do something you love, even if it's not that sporty. There are lots of ways you can keep enjoying the life you have right now, while involving more movement in your everyday routine.
Explore more