If you want to get more active in your everyday life, but don't know where to start, go for a walk! From starting with just 10 steps to working up to a mile, you'll be amazed how quickly you'll be getting further. The health benefits are endless but that's not all, being outside, even if it's just for 10 minutes a day, will make you feel better. We've put together a programme of walks that will have you tackling the trails in no time, with information on countryside access and starting right from the beginning, this is suitable for everyone.  You won't need any fancy stuff, just some wellies or trainers and a warm coat.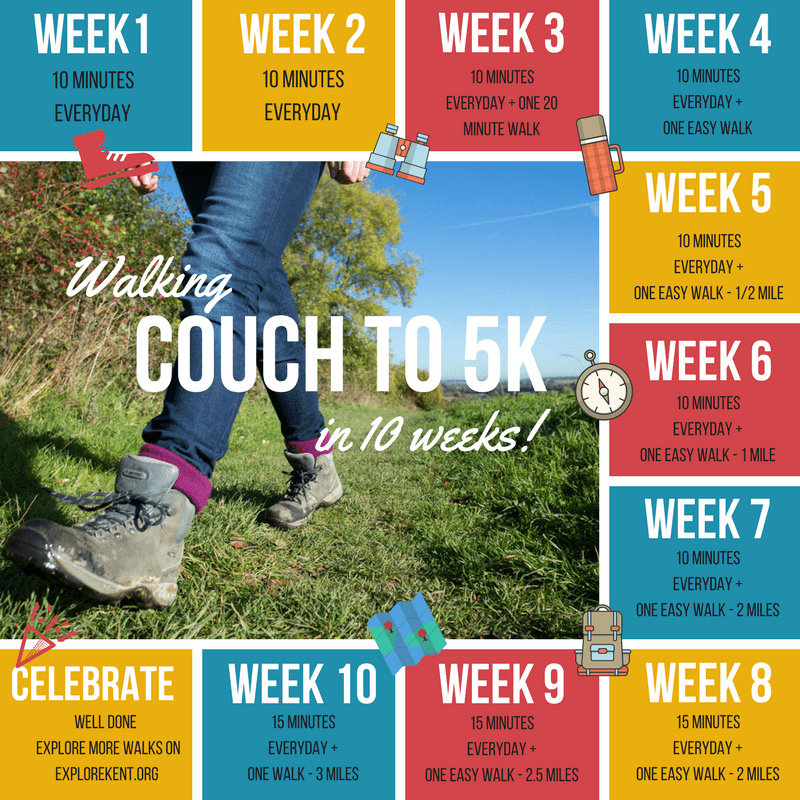 10 minutes a day
If you haven't done any exercise at all for a while, start by walking around where you live and see where it takes you. Set a timer on your phone or take a timer with you and walk for 5 minutes from your front door then 5 minutes back and try to keep that up every day. You could do it at work, see where walking for 5 minutes from the front door of your workplace takes you – work this into your routine and try to keep it up daily for 2 weeks. Keep a walking diary and record how you feel each day, it's a great way to stay motivated and see how far you have come.
Easy walks
Well done, you've been moving for 10 minutes every day for 2 weeks! However you may now be getting a bit bored of going around the houses…  You might have already factored this into your 10 minute walks, but now look for a park or greenspace nearby. Explore Kent has hundreds and there's bound to be one near you. Make an afternoon of it and see if you can do 15-20 minutes. Parks often have walks marked out already, and there will be benches if you get a bit puffed. They're usually quite short so see how you get on, you'll be surprised what a difference 10 minutes a day can make! How do you feel? If this was a bit of a challenge write it in your log and plan one for next week, there'll be lots of places you'll discover in your local area you never knew existed! But remember to keep up that 10 minutes a day for another week!
Tackle a mile or half
After the first 3 weeks you're ready to tackle a mile or half. Well some of them aren't even half a mile, but this is your next challenge. On the Explore Kent website there are a set of 'Easy Access Walks' they are all between half a mile and a mile. Plan a day to do one of these walks each week for the next 4 weeks, there will be one near to where you live and there's probably a café or a pub nearby for a well-earned rest afterwards! They are all signposted on the ground but there are printable maps on the Explore Kent website in case you're unsure. Don't forget to check out the countryside code so you are prepared for the wide open fields. Why not try one in a new area? Make sure at the end of the 4 weeks you have tried some of the slightly longer easy access walks and keep up that 10 minutes a day. Take some pictures while you're out and send them to us on social media, there are some lovely views on these walks and we want to see how you're getting on!
Step it up
After you've completed the 4 weeks and your 10 minutes a day is still in force you're ready for a bit more of a challenge. Start making your daily walk 15 minutes a day and try one of these slightly longer walks – your new aim is to be able to walk for 3 miles, but all of these walks can be cut short and the first ones will be building you up to the 3 miles so never fear there aren't any challenging climbs. Try to do one per week in the order below along with your 15 minutes a day.
Walmer to Deal Castle: This Flat 2 miler is beautiful in the sunshine and a linear route, it's really easy to follow and you can carry on wandering into Deal to get a nice cuppa with a sea view.
Jane Austen and Tonbridge Walk: There are a few hills in this one but you'll be amazed by how easy they will be by now and you'll discover a bit of Kent's hidden history while you're at it!
Stone in Oxney: It's time to get rural, this walk takes you into the High Weald Area of Outstanding Natural Beauty and you'll pass through some stunning woodlands. This walk gets you up to your 3 miles so well done! You did it, but we're not finished yet!
Take your daily walk up to 20 minutes a day – just think that's 10 minutes there and 10 minutes back. Easy!
BONUS! Here's to the next challenge
Elham Walk: This walk takes you through the Kent Downs Area of Outstanding Natural Beauty (AONB) and this is the most beautiful of the walks on the list so it's well worth the effort. At 3.7 miles this will be a challenge but the views on this walk are worth the effort. At this point you'll probably think this is quite easy!
If you've got this far well done! You should be really proud of yourself, you'll probably have seen a change in your weight and the way you feel. Most importantly, don't give up! There are hundreds of walks for you to discover at Explore Kent so why not set yourself challenges and explore all of our walks? You might even decide you want to tackle the epic 153 miles of the North Downs Way!
Explore more
Easy access walking trails
Easy access trails are ideal for people with pushchairs, wheelchair users or for those who prefer flatter surfaces with no stiles or gates. There are more than 20 great easy...