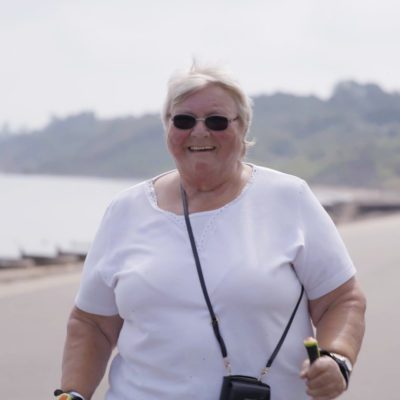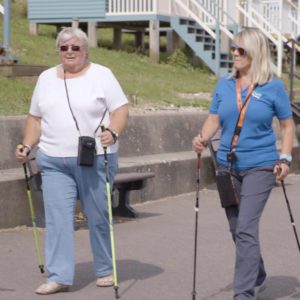 Margaret's Nordic Walking Story
Hear how Nordic Walking has helped Margaret to be more active in her everyday life.
Save this item
Nordic walking is a great form of physical activity using a pair of specially designed Nordic walking poles.
It is a safe way to improve your natural walking technique alongside your fitness levels by allowing the body to work in a balanced way.  Nordic Walking sessions are the perfect option for anyone who is living with a health condition or has mobility issues that might make it hard to walk unassisted.
We visited the nordic walking group on the Isle of Sheppey, set up by Sheppey Matters and delivered by our very own Everyday Active Champion Julie Calder.  We spoke to Margaret about how Nordic walking has helped her to be more active in her everyday life.
Margaret told us "I started the Nordic walking to help me lose weight.  I was doing a weight management course up at the hospital and Julie came up and introduced us to Nordic Walking and I've been doing it ever since".
She added "I never used to go out for walks. I used to come out of my house, get in the car and drive to town. I never walked anywhere.  It's my COPD that stops me walking but I don't have any problem walking with these poles.  It exercises all of your body, your legs your arms, your breathing. It helps it all.  And it's a good social thing.   It's nice to get out and talk to people.  It's the company that really makes me go.  Without the Nordic Walking I'd be indoors seizing up. Nordic Walking has changed me".
Give it a go!
Are you interested in giving Nordic Walking a go, or trying a different exercise class? Take a look below for more information about Nordic Walking and the benefits of walking, or visit our group exercise page to find another activity for your everyday life.
Explore more
Benefits of…walking
The benefits of walking are almost endless, and whether you used to walk regularly, have no experience of walking for exercise, or even if you're living with mobility issues, walking can provide real benefits for your health and welbeing.