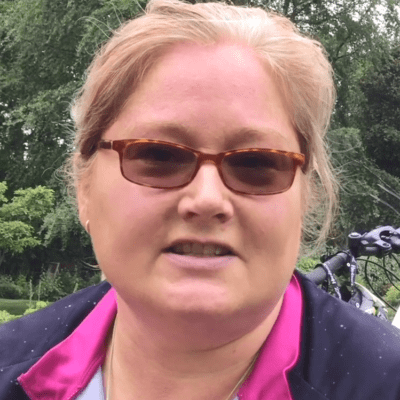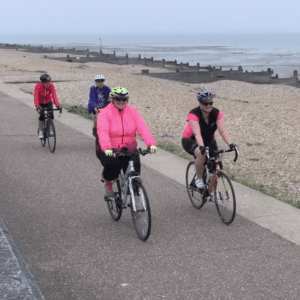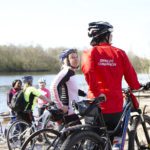 Jane's Breeze Story
Jane lets us know what it is about Breeze rides that keeps her coming back.
Save this item
When Jane signed up for a charity bike ride with a friend, she didn't realise what she was getting herself into. "Neither of us had cycled before" she explains, "and we did a Google search and found Breeze rides".
Breeze is British Cycling's programme of free guided rides for women and girls, and the programme has grown from strength to strength in recent years. There are local rides happening across the county all week, giving women and girls the chance to gain confidence and experience on their bikes.
I was overwhelmed by the support and encouragement from all the Breeze Champions
Jane was sceptical at first, and admits to having second thoughts on her first ride. She explains "My first Breeze ride was with my friend. We went over to Headcorn, and there were lots of people there, and we were really nervous before we started. And I did say to her "what have you signed me up for"?!
That first ride was a 20-miler, and since then Jane has participated in a number of Breeze rides and even trained to become a Breeze Champion. It was the "support and encouragement from all the Breeze Champions" that kept Jane coming back. She says she's "met some really lovely people. Everyone I've met in the world of cycling has been friendly and encouraging and pleasant to know".
This connection with her fellow riders has been a main factor in helping Jane to make cycling a regular habit. "It's really inspired me to want to continue cycling", she says.
If you're looking to start cycling, Breeze is an ideal way to build up your confidence and meet some fellow cyclists. There are also lots of other ways to enjoy cycling across Kent and Medway. Take a look at some of the links below for inspiration.
Explore more